"The Saul Leiter Way" at Fomunity
Remembering the Saul Leiter way art of making photographs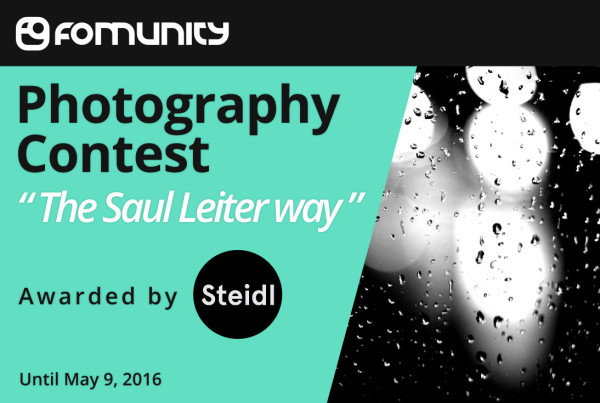 Saul Leiter was a photographer who was born in USA and developed most of his work in New York City. Died in 2013, his work is an immense legacy yet to be discovered for many. His extraordinary photographs that combines reflections, blur, dim lights, raindrops on glass and exceptional use of color, framing and compositions contain features that printed very own stamp to their work.
Construct images in the manner of Saul Leiter is a proposal that is primarily intended to achieve two goals: on the one hand allow the authors know the work of this unknown photographer for a vast majority; And last but not least, encourage to explore risky ways, draw suggestive compositions, benefit from the overwhelming use of color and their effective combination. In short escape the comfort zone and penetrate the transformation of reality, the pursuit of abstraction and originality.
Prizes:
There will be 3 prizes, consisting of books of Saul Leiter, thanks to Steidl:
-First prize: Early Black and White + Early Color
-Second prize: Early Black and White
-Third prize: Early Color
Eligibility:
This contest is open to all professional and amateur photographers who are interested.
Copyrights & Usage Rights:
COPYRIGHT:
The photographers retains the copyright over their works.
USAGE RIGHTS:
Fomunity reserves the right to use the photographs to show them at the gallery and to announce the winners of the contest in the blog and social profiles.
Theme: