THE STRENGTH OF WOMEN IN TURKEY
First Onar Photo Contest
Deadline: 28 February 2017
Entry fee: Free
Submit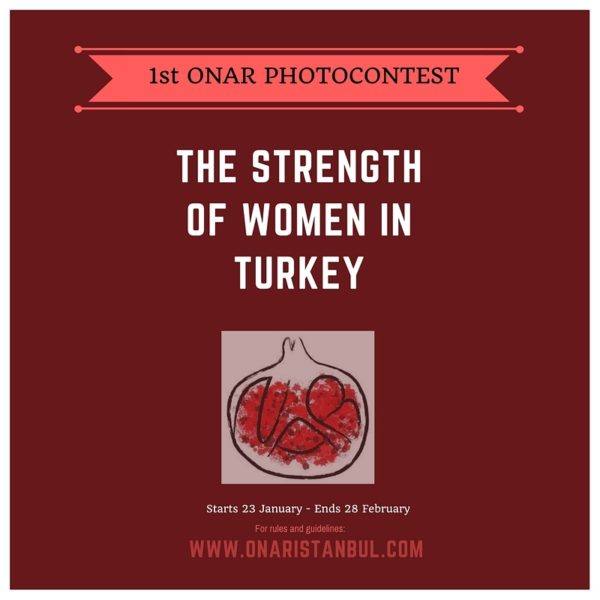 ONAR PHOTO CONTEST "THE STRENGTH OF WOMEN IN TURKEY"
WHO:
ONAR is a Turkish multicultural NGO that works to empower women and against GBV, we believe in collaboration over competition and in engaging men in the dialogue to end violence and include women in all areas of the society. We do believe that art, in all its forms, can also help to empower women and to show their potential.
CONTEST/ AIM:
We launch this photo contest because we believe that photography is a form of art that shows the reality through different points of view and that a variety of perspectives is always enriching.
We are based in Turkey so we are looking for photographs which show women in Turkish society, whether it is Turkish women or foreign women living in Turkey. We want to receive photographs that show the strength of women, their potential in society and in the world around us, the contribution that through her strength she gives to her community. We look forward to receiving images on the potential of women in Turkish society.
In the contest of Onar's Raise your Woice project, we look for photographs that show how a woman can raise her voice without shouting, her strengths, her talents, her abilities to positively affect the world around her.
We invite amateur and professional photographers from Turkey and from all over the world who have taken pictures about this topic here in Turkey to participate.
All the pictures should be sent to:
onarphotocontest@gmail.com
The judges will select 20 photographs according to their visual quality and their capacity to express the chosen topic.
PRIZES:
-The best 3 photos will have a special mention and an interview on Onar blog.
-The 20 photos selected for exhibitions will be published as a slideshow on Hurriyet Daily New online.
-There will be an exhibition in Istanbul
JURY:
Irene Campari, Project Responsible and Onar's Board Member.
Delizia Flaccavento, Photojournalist and documentary photographer;
Orhan Cem Çetin, Photographer, lecturer at Istanbul Bilgi University, Bahçeşehir University and Galata Academy of Photography. Member of the advisory board of Istanbul Modern Art Museum Photography Gallery.
Prizes:
The best 3 photos will have a special mention and an interview on Onar blog.
-The 20 photos selected for exhibitions will be published as a slideshow on Hurriyet Daily New online.
-There will be an exhibition in Istanbul
Eligibility:
Submissions are only accepted via email. Submissions will not be accepted after the deadline. Photos submitted must be at least 3000 pixels on the shorter side, and no more than 5000 pixels on the longer side. Images should be no smaller than 3MB. Photos must be in JPEG format. You may submit 1 to 3 photos. You are required to provide a unique title & description for each image submitted. All submitted photos must contain the original EXIF metadata information. There must be no border(s), logo(s), copyright marks, identifying marks, or any other visible references and/or marks on the image. Basic editing, including colour enhancement, the use of filters, and cropping of the Photo(s) is acceptable, provided that any such editing does not affect the authenticity and/or genuineness of the Photo(s). Advanced editing used to create illusions, deceptions and/or manipulations, and the adding and removing of significant elements within the frame is prohibited. Every image submitted is subject to a moderation process before it becomes visible on the contest page. Onar Istanbul reserves the right to assess and disregard any submitted photo at its own discretion. Photos that portray or otherwise include inappropriate and/or offensive content, including provocative nudity, violence, human rights and/or environmental violation, and/or any other contents deemed to be contrary to the law, religious, cultural & moral traditions and practices of Turkey, are strictly prohibited and will be immediately discarded. A participant who submits any such photos may be permanently banned, subject to Onar's discretion, from participating in any future contests.
Copyrights & Usage Rights:
1. Submitted photos must be original, created and/or taken by the contestant. It must not contain any materials owned or controlled by a third party for which you have not obtained a license, must not infringe the copyright, trademark, moral rights, rights of privacy/publicity or intellectual property rights of any person or entity.
2. Onar respects photographers' copyrights and copyrights shall remain vested with the creator of the image. Upon making the submission, you grant Onar, non-exclusive, royalty free, sub-licensable right and license to use, publish, reproduce, display, perform, adapt, create derivative works, distribute, have distributed, print, in whole or in part, in any form, in all media forms now or hereafter known, to promote the contest, image, the photographer or for editorial or educative use.
3. The Photographer will be credited wherever the image is used.
The Contest, Your Submission(s) and the Rules shall be governed by and construed in accordance with turkish laws. Any aspects or disputes arising out of or in connection with the contest and/or your submission(s) will be subject to the exclusive jurisdiction of the Turkey courts.
Theme: