The Swiss Photo Award 2016
Prize money totalling CHF 30,000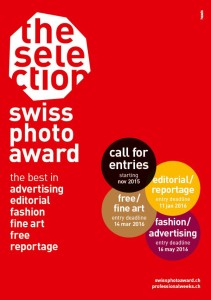 The Swiss Photo Award – the.selection is one of the most prestigious photographic prizes in Switzerland, and with prize money totalling CHF 30,000 one of the best-endowed. Since 1999 it has been a showcase for Swiss photography in all its depth, seeking the best work each calendar year in a range of categories:
Editorial Photography
Fashion
Fine Art
Free
Reportage
Advertising
The Swiss Photo Award is geared to photographers who live in Switzerland and/or have Swiss citizenship, and to photographers whose work has been published in Switzerland.
Registration for the award starts on 15 November, with the deadline for submissions from the beginning of January, depending on the category.
Prizes:
CHF 30,000
Eligibility:
-
Copyrights & Usage Rights:
Swiss Photo Award - the.selection reinvents itself!
Now unpublished work can also be submitted in all categories
The processes for registering and uploading files are now state of the art and more straightforward.
The award will now be held in the Photobastei, with the ceremonies for the different categories taking place in stages within the framework of larger, very attractive Professional Weeks.
Theme: