THEME | FOUND OBJECTS
Have your work exhibited at Praxis Gallery & Photographic Arts Center
Deadline: 22 July 2018
Entry fee: $35 for 5 images, $5 each additional image.
Submit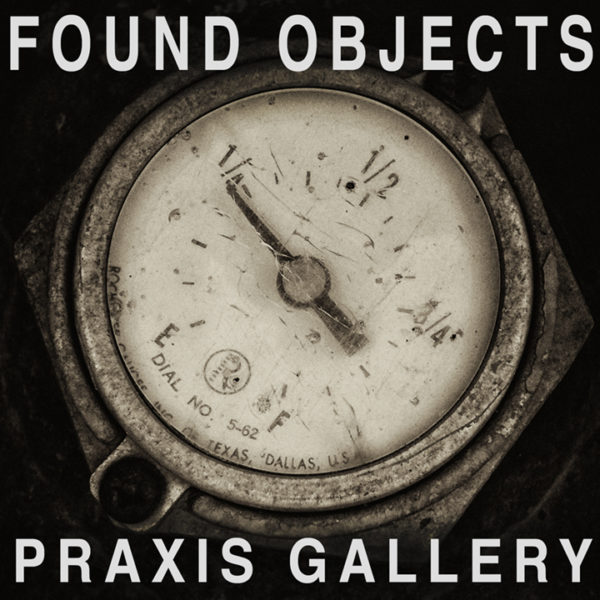 A "found object" is a material artifact discovered by chance and assigned esthetic value in an artist's hand. Found art may include a wide array of objects and items either discarded, forgotten, dropped, or misplaced – such as shoes, a fork, shopping carts, old photographs, signs, doll heads, industrial machinery, abandoned cars, clocks, mementos, or any object that can be reimagined through the lens of a camera… as long as the artist believes that the discovered object possesses a certain aesthetic or talismanic quality - stemming from its appearance, social or personal history.
Praxis gallery seeks photographic art that explores this idiom. Submissions may be a study of the "found object" as pure visual form, detached from its history or utility. Conversely, the representation of the object may be a catalyst for exploring broader issues such as subjectivity and socialization, memory and loss, or love and death. All genres, capture types, black & white and color, traditional and non-traditional photographic and digital post-production processes are welcome for submission.
JUROR | LAURA MIGLIORINO
Laura Migliorino was born in Cleveland Ohio, and grew up in a Chicago Heights, a Chicago suburb. Migliorino earned her BFA from the School of the Art Institute of Chicago and her MFA is from the University of Minnesota. Migliorino received numerous grants from the Jerome Foundation, several Minnesota State Arts Board grants and various exhibition prizes. Her work is in the permanent collection of the Walker Art Center, Weisman Museum in Minneapolis and The Minnesota Center for Book Arts. She has exhibited internationally for over 30 years.
Prizes:
Thirty images will be selected by the juror for exhibition at Praxis Gallery. A Juror's Choice and two Honorable Mentions will be awarded by the juror and featured in the exhibition, the printed show catalog and the online show gallery. Award winners will receive a free show catalog. The Directors Choice Award will be given to the artist with the strongest series of images submitted and will have their work featured at praxisgallery.com.
Eligibility:
International / Worldwide / Amateur / Professional
Copyrights & Usage Rights:
Artist retains all copyrights to their own images. The artist's name and photo title will be included wherever the photographs are displayed. Artists whose photographs are accepted for exhibition grant Praxis Gallery the nonexclusive right to use submitted photographs for exhibition purposes and for the purpose of marketing the exhibition, marketing related programs and subsequent display on Praxis Gallery's website.
Theme: