Thomson Ecology Photography Competition 2015
Open to all photographers worldwide.
Deadline: 30 July 2015
Entry fee: Free
Submit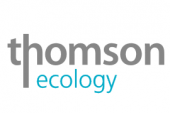 Thomson Ecology is delighted to announce the return of the Thomson Ecology Photography Competition for the fifth year running.
This year the competition entitled "Ocean's Fifteen" focuses on the oceans of the world, inspired by the work that Thomson Ecology's marine team do on assessing the environmental impacts of marine construction projects and harbour and port developments throughout the UK and Europe and advising clients on how to reconcile the sometimes apparently conflicting demands of development and ecological constraints.
Images can include marine or coastal landscapes - scenic or industrial, or interesting marine flora or fauna.
Prizes:
The prize for the winning photo is £200, plus the image may be used for commercial purposes and the winner will be paid a fee of £20 for each use. There will be two runner-up prizes of £50 each.
In 2013 the winning image was printed in the Daily Telegraph, so this year's winning image could also attract some good exposure!
Eligibility:
Open to all photographers worldwide.
Copyrights & Usage Rights:
-
Theme: