Thresholds: Street Photography Now
1st Place winner will receive $1,000
Deadline: 18 April 2023
Entry fee: $25 for 1 image
Submit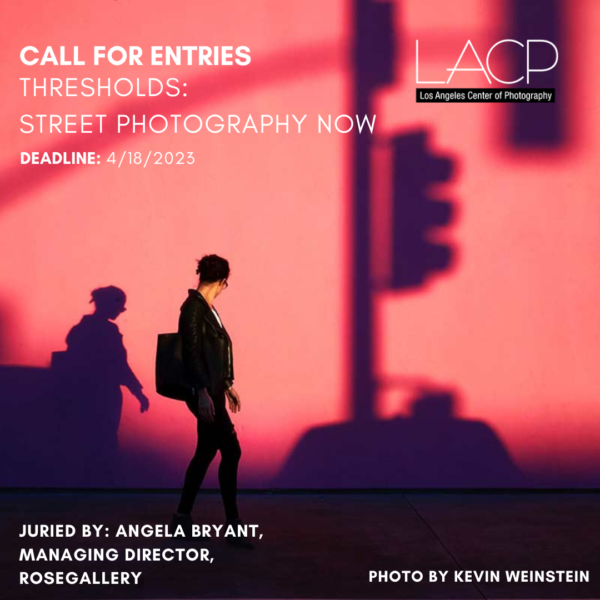 In the wake of the pandemic era, faced with tumultuous global political upheavals and threats brought about by economic disparities and the climate crisis, can we offer new pathways into personal stories, moments and experiences in public spaces? Thresholds will outline a panoramic view of global street photography at a moment when the mere idea of public spaces has been radically shifted.
Covid forced us into isolation and separation from one another while paradoxically opening up our homes and providing us with direct access to countless cities through our devices. Between this micro-locality and expanded globalization, Thresholds seeks to explore our changing relationships with our streets and one another: how do we choose where to turn our look, how do we capture others and how do we allow ourselves to be seen? This virtual exhibition investigates access to our spaces, how we reconnect in public settings, and in the wake of Covid, what has changed in our vision of the world.
The selected works will be featured online and in a virtual exhibition opening scheduled for Thursday, May 18, 7 pm PST, 2023.
Prizes:
1st Place winner will receive $1,000; 2nd Place winner will receive a $500 LACP gift card; 3rd Place winner will receive $250 LACP gift card.
Honorable Mentions: Other artists will receive honorable mentions.
Eligibility:
The exhibition is open internationally to photographers of all levels. The juror will select images based on creativity, originality, and quality. LACP invites photographers working in all mediums and styles to take part in the exhibition. The deadline to send digital files for consideration is Tuesday, April 18, 2023.
Copyrights & Usage Rights:
Each photographer retains all copyrights to his or her images. Photographers whose submissions are chosen for the exhibition grant the Los Angeles Center of Photography (LACP) the right to use their images for display on LACP's website and for the purpose of promoting exhibitions, promoting LACP's programs, and promoting the artist. Promotions and images may also be placed on social networks for LACP with artist credit. Artists grant the use of their image(s) as stated without further contact from LACP. The artist understands that LACP will not be held responsible for loss, theft or other damage, whether caused by the negligence of its officers, members, or others. Photographers are welcome to sell their photos during the online exhibit, with 50 percent commission to LACP. Submission of application will constitute an agreement to all these terms and conditions.
Theme: