TPOTY 2017 – Travel Photographer of the Year
Leading and prestigious international travel photography contest
Deadline: 25 September 2017
Entry fee: Entry fees are £8.00 for the One Shot single image categories, £15 for portfolio and New Talent categories and entry for Young TPOTY is free.
Submit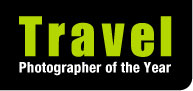 Travel Photographer of the Year (TPOTY) is the leading and highly prestigious international travel photography competition. The awards are open to anyone - children, students, adults, amateur or professional.
Prizes:
The TPOTY sponsors Fujifilm, Genesis Imaging, Hurtigruten, Jack Wills, Paramo, Photo Iconic, Plastic Sandwich, Royal Photographic Society have provided a prize package worth around £30,000
The overall winner receives a prize worth over £5000: £4,000 in cash, £750 to spend on the Páramo clothing of their choice, and a Plastic Sandwich personalized leather portfolio case.
Eligibility:
Images that have won a single image prize in another international travel photographic competition before the TPOTY closing date are not eligible for the One Shot categories. However, these images are still eligible as part of a portfolio. Portfolios that have won a prize in any other international travel photographic competition, with an identical portfolio, before the TPOTY closing date are not eligible. You are strongly advised not to enter the same images in other major photographic competitions which are running concurrently. Black & white images and panoramic images are accepted.
Copyrights & Usage Rights:
The entrant must be the sole author and owner of the copyright of all images entered. It is the legal responsibility of the entrant, and not the organisers, to ensure that they comply with these ownership and copyright requirements, and own the rights to reproduction of their images. Entries that do not fulfill these criteria will be deemed ineligible and disqualified. Where this is discovered after the prize has been awarded, the prize must be returned or refunded by the entrant. Entrants agree to fully indemnify Travel Photographer of the Year Ltd and its sponsors and employees in respect of all royalties, fees and any other monies owing to any person by reason of the entrant breaching any of the foregoing.
Theme: