Travel Photography Contest 2023 by The Artist Gallery
Cash prize for the best 3 photos, worldwide exposure for the best 25
Deadline: 31 August 2023
Entry fee: Early bird (before July 16th) 1 photo - $8 USD / 3 photos - $20 USD / 5 photos - $28 USD
Submit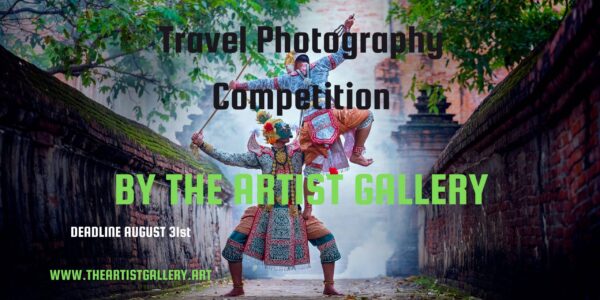 The Travel Photography category is an invitation to capture the essence of exploration, adventure, and discovery through the art of photography. It encompasses a wide range of subjects, from breathtaking landscapes and iconic landmarks to vibrant street scenes, cultural encounters, and intimate moments that reflect the spirit of a place. Travel photography allows us to document and share our experiences, transporting viewers to different corners of the world and immersing them in the beauty, diversity, and authenticity of different cultures and environments. Whether it's capturing the serenity of a remote beach, the bustling energy of a vibrant city, or the rich traditions of a local community, this category celebrates the power of photography to convey the wonder and transformative power of travel. So unleash your creativity, seize the moment, and let your photographs tell the stories of your unforgettable journeys.
Prizes:
1st place gets 15% of the money collected from the contest registration fees.
2nd place gets 10% of the money collected from the contest registration fees.
3rd place gets 5% of the money collected from the contest registration fees.
We will publish a blog about the photography career and aspirations of the best 3 photographers.
The best 25 photographs will be shared in our social media channels and our photo gallery.
Digital certificate for the best 25 photos.
Eligibility:
Amateurs and professional photographers from any country
Copyrights & Usage Rights:
The photographer will retain copyright of the photo and will be credited every time the gallery uses the photo.
- The Artist Gallery has the right to use the photographs submitted in our contests for any purpose related with the Gallery like exhibitions, share it in our web page or our social networks.
- It is the responsibility of the participant to ensure that the photo does not violate any copyright or trademark.
- If recognizable people appear in the photograph, it is recommended to have the authorization of the person portrayed to use the photo.
- The photographer agrees to be the author of the photo.
- The Artist Gallery is not responsible for any broken law by the photographer.
Theme: