Tripping the Light Fantastic
all entries will be featured in a digital exhibit at the show
Deadline: 1 June 2016
Entry fee: $35. for 3 images
Submit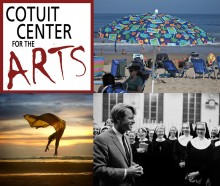 Online Gallery
We appreciate the work of all photographers entering this important exhibition. During the course of the exhibit all entries will be featured in an online gallery on our website, and the images will be rotated in a digital exhibit that will be mounted in the physical gallery.
International Submissions
We encourage submissions from around the globe. One of the reasons we will be framing the work ourselves is to encourage more participation from the far-reaching corners of the world. Your work will be seen. We look forward to seeing it.
Prizes:
$5500 total prize money
$2500 Best in Show
$1000 Winners in Each Category
Eligibility:
contest open to all photographers internationally
Copyrights & Usage Rights:
Copyright and usage:
Copyright of all photographs submitted remain with the photographers who submitted them. All entrants agree that their name and images can be displayed and used in promotion for future competitions at Cotuit Center for the Arts. Full credit will be given to photographers if image is used.
Theme: