Tuŝis – Hand-made and Manipulated Images
Straight or strange, every image shows the artist's unique touch.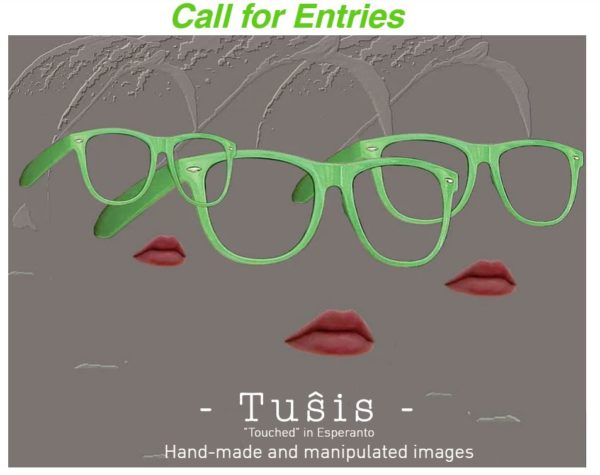 Tuŝis - Means "touched" in Esperanto
Touched. Manipulated, Constructed, Changed, Shaped. Re-shaped. Tweaked, Frobnicated. Straightened. Distorted, Handled, Molded, Fixed,Transformed. Alt-process! Antiquarian! Montage! Experimental! Exotic! Calling for images showing the artist's touch...
Subtle or dramatic, straight(ish) or strange, every artist's touch shows a presence, a meaning, an intention, a "soul" beyond literal subject subject matter. Dek Unu is creating a collection of "manipulated" images for an exhibition of fine art photography that shows something of each artist's singular soul.
All genres and techniques are invited and international entries are encouraged. We are looking for a combination of creativity and craftsmanship and are open to the widest range of images. Submit adventurous, accomplished photo-art that shows your "touch."
Prizes:
Winners' images and links become part of a full-color, hard-bound book of fine art photography along with inclusion in a month-long heavily-promoted exhibition (over 2.8 million contacts) in Dek Unu Arts online gallery and in its permanent collection. Three additional identity- and brand-building promotions occur during the month and Dek Unu Arts sends press releases to artists' news outlets or mailing lists on request. The book is permalinked at archive.org for artist's later reference in resumes, grant applications, show proposals, etc., after the end of the exhibit. We are very happy to provide references and documentary support to artists' future endeavors on request.
Eligibility:
18+ years old
Copyrights & Usage Rights:
Your submission to the current call for entries establishes that you are the owner of copyright to all images and that none are obligated or currently under contract elsewhere. You grant Dek Unu Arts a non-exclusive license to use submitted images for publication and promotional purposes online at www.dekunuarts.com. in promotional postings on web and social media, and in a single print volume created by Dek Unu Arts. Dek Unu Arts establishes you continue to own all copyrights and that none of the photographs may be downloaded, stored, printed, manipulated, distributed, or used in any form without your prior permission. Works published by Dek Unu Arts are protected under domestic and international copyright laws and are not considered to be public domain.
Theme: