Unexpected Angles Photo Contest
Share a photo at a unique angle
Deadline: 3 November 2015
Entry fee: $6.95 to enter this and over 50 additional contests.
Website: http://9nl.it/ne8c
Submit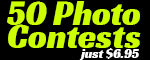 The challenge of this contest is to shoot something from an unexpected angle or viewpoint, rather than the usual. For instance a room from the view of a mouse, rather than a human eye.
FanArtReview.com lets you enter over 50 contests every month for a one time entry fee. Choose from a huge selection of photo and art contests. 
Don't miss contests with cash prizes that have deadlines that are quickly approaching. That includes our "Wildlife Photo Contest", "Black and White Photo Contest", "Seascape contest" and "Pet Photo Contest".
The cost to enter all contests is $6.95 for all contests available that month.
You get feedback for everything you write including your contest entries. So win or lose you will get feedback about your submission.
For over ten years FanArtReview.com has been helping artists improve their craft.
Prizes:
$100 cash prize.
Eligibility:
All Eligible
Copyrights & Usage Rights:
Artist keeps full copyright.
Theme: