V Arteche Photo Contest – artPhoto
V Arteche Photo Contest - artPhoto
Deadline: 1 November 2019
Entry fee: Free
Submit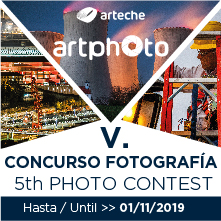 Following a successful Fourth Edition in which were submitted more than
240 photographs from all over the world, ARTECHE Group would like to
extend you an invitation to the 5th artPhoto Photography Contest
One award in each category:
1. Life and power: these should be reflective of the impact of electric power in the daily life of people and society, its
influence in daily occurrences of each one of us in any possible view: how electricity offer us light, warmth, how it moves
us or how it part of our entertainment.
2. Infrastructure and electric equipment: the impact of power in our life would be impossible without the needed
infrastructure and equipments generation, transmission and power distribution which permits us to use it in our
advantage and which mold our landscapes.
3. ARTECHE products: compositions including any ARTECHE product.
4. Electric framework: this category should represent how deep is the fit regarding professionals of electric sector and
their companies.
Prizes:
GoPro HERO7 White
Eligibility:
Entry to the competition is free and anyone who wishes may participate (photographs by under-18s should be sent accompanied by the permission of their guardian).
Copyrights & Usage Rights:
All the competitors grant ARTECHE Group
the license to disseminate and use their photos in the
company's corporate and commercial dissemination
platforms.
Theme: