Verzasca FOTO Festival Awards – 2019 Nera Prize
Call for Entries for the annual Verzasca Foto Festival constest
Deadline: 17 March 2019
Entry fee: 20.00 Swiss Francs
Submit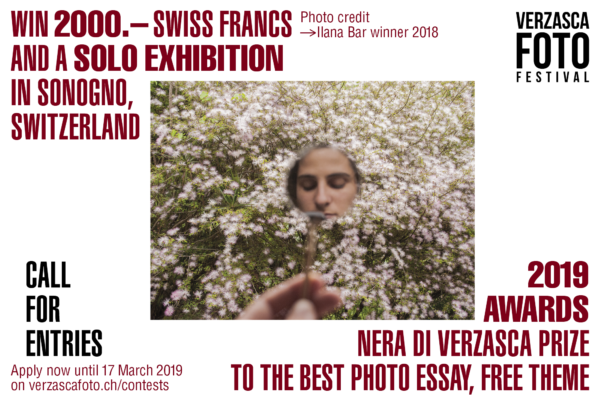 The Nera di Verzasca Prize is open theme photo contest for amateur and professional photographers promoted by the Verzasca FOTO Festival.
Please submit your photo story with minimum 3 and maximum 10 photos. Both analogical (scanned from negative or slide) and digital images are allowed. Participants must own the original files.
In order to confirm your registration, you must enter a title and a short description for the group of photos. Make sure the longer side is 2000px. Next Festival from 5 to 9 September 2019. Thank you.
Prizes:
PRIZES
1st place
2'000 SWISS FRANCS
+ solo exhibition at Verzasca FOTO 2019
+ projection of work at the photo night during the Festival Verzasca FOTO 2019.
+ board and lodge for 4 days (5-8.09.2019) during the Festival.
All finalists (1st- 10th places)
Projection of their work at the photo night during the Festival Verzasca FOTO 2019 + board and lodge for 4 days during the Festival.
Eligibility:
Over age 18
Copyrights & Usage Rights:
Copyright
The participant declares to be the sole and exclusive owner of the uploaded photographs.
Use of images
The winning photographs remains at exclusive property of the author who authorises the promoter to use it for non-commercial purpose, to reproduce and publish them by any means, free of charge and without time limit; in particular, but not as a limiting factor, on websites, social networks, printed materials (e.g. flyers, posters, catalogues, etc.) related to the promotion of the Festival Verzasca Foto.
Responsibility
The sole responsible of the uploaded contents is the author. The promoter declines any responsibility for the images uploaded by the user and possible infringements of copyright.
In all circumstances, generally, the participating photographers undertake to release and to free the promoter from any claim, request, responsibility and from any property right or claim by third parties linked to the contents.
Theme: