Verzasca Foto Festival, Switzerland – Exhibition Open Call
Take part in the main exhibition of Verzasca Foto Festival-Switzerland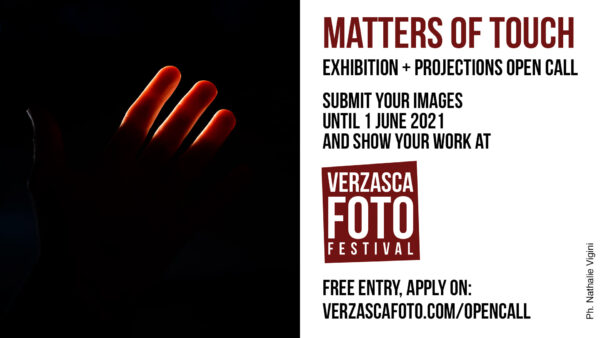 - Send a single image or a project/series related to the sense of touch
- Open call submissions are free of charge and open to everybody.
- Verzasca Foto takes charge of the production costs of the exhibitions.
- Images can be taken anytime and anywhere.
- With your submission you can also send a slide/video to be projected at the Night of Photography.
With an edition dedicated to the sense of touch, this year we want to show the importance of physical exchange and connection between human beings through the images you have created during your artistic career.
Prizes:
Benefits for selected artists:
- Exhibition in the main festival show, with a single image or a selection from a project. Pictures will be printed in large format and placed in an outdoor setting of the Verzasca Valley, Switzerland.
- Projection at Notte della Fotografia "Night of Photography". The event with the biggest audience of during the festival.
- Invitation with free board and lodging in Sonogno, Switzerland from 2nd to 5th September 2021.
- Public Presentations of selected photographers that wants to attend the festival and present their work.
- Free portfolio reviews with international experts.
- Meet international artist and expand your network while enjoying the natural wonders of the Verzasca Valley.
Eligibility:
Open to everybody
Copyrights & Usage Rights:
The participant declares to be the sole and exclusive owner of the submitted photographs.
The winning photographs remains at exclusive property of the author who authorises the promoter to use it for non-commercial purpose, to reproduce and publish them by any means, free of charge and without time limit; in particular, but not as a limiting factor, on websites, social networks, printed materials (e.g. flyers, posters, catalogues, etc.) related to the promotion of the Festival Verzasca Foto.
The sole responsible of the submitted contents is the author. The promoter declines any responsibility for the images uploaded by the user and possible infringements of copyright. In all circumstances, generally, the participating photographers undertake to release and to free the promoter from any claim, request, responsibility and from any property right or claim by third parties linked to the contents.
Theme:
People Portrait Photojournalism Conceptual Documentary Nudes Fine Art Travel Culture