Whalebone Magazine Photo Contest Presented by B&H Photo
$25,000 in cash prizes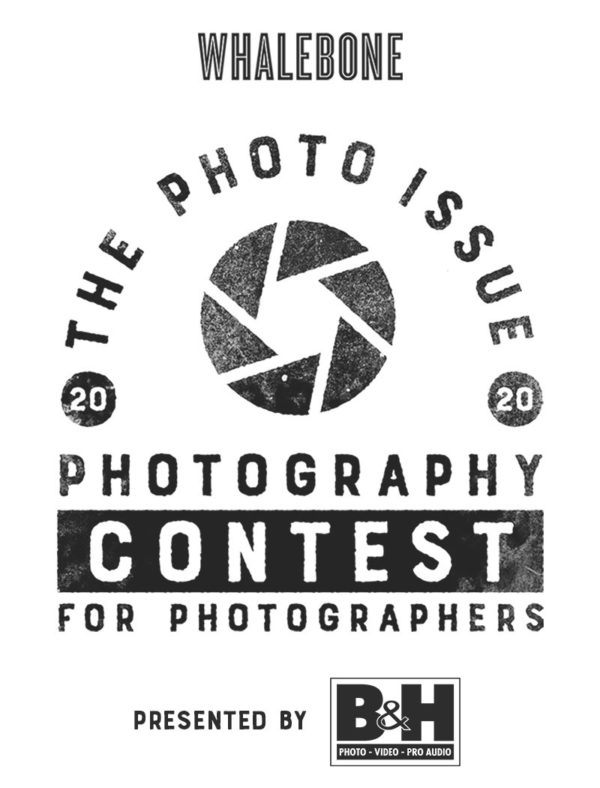 Whalebone Magazine Photo Contest presented by B&H: $25,000 in cash prizes.
Categories include: Water, Human, Joy, Adventure and Motion.
You may enter as many categories as you like, as many entries as you like.
The first-ever photo contest from Whalebone Magazine is bringing a judging panel of world-renowned talent including: Walter Iooss, Morgan Maassen and Danny Clinch.
Whalebone Photo Contest opens April 17 through May 8. $5 per entry with a portion of proceeds headed to No Kid Hungry to support their COVID-19 relief efforts.
Prizes:
WATER CATEGORY
Presented by JUST Water
$4,000 Grand Prize | $500 2 Finalists
HUMAN CATEGORY
Presented by Montauk Brew Co.
$4,000 Grand Prize | $500 2 Finalists
JOY CATEGORY
Presented by JuneShine
$4,000 Grand Prize | $500 2 Finalists
ADVENTURE CATEGORY
Presented by Huckberry
$4,000 Grand Prize | $500 2 Finalists
MOTION CATEGORY
Presented by Urban Armor Gear
$4,000 Grand Prize | $500 2 Finalists
Eligibility:
Open to professional and amateur photographers worldwide (where prohibited)
Copyrights & Usage Rights:
To be eligible for any category, a photograph must have been shot by the entrant and entered into the category of choice. The entrant certifies that he/she is the sole creator and copyright owner of the submitted photograph(s).
The participant retains copyright of all submitted images and descriptions. By entering the competition, you grant Whalebone and its partners a non-exclusive, royalty-free, irrevocable license to publish images for any purpose. This includes: display on website and on the websites of partners; email communications, on social media used by Whalebone and its supporters; for use in marketing and communication purposes. Inclusion in Whalebone's upcoming Photo Issue (publication).
Theme: