What Brings You Here?
You can be shown in Paris!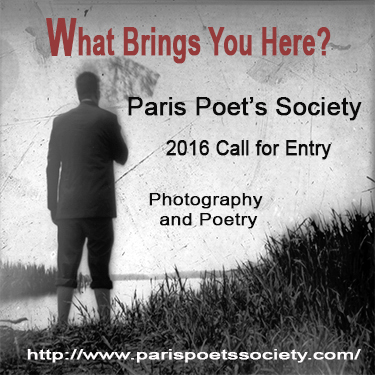 The Paris Poets Society is now accepting entries for its group poetry and photography exhibition/book, What Brings You Here? The exhibition/book will explore the personal and individual experiences and memories of those living in or visiting Northeast Texas. The exhibition/book will be based on the journey of the artists—what brings them to the place they now find themselves artistically as well as the geographical influence Northeast Texas has had on their lives. Please note the photographs are intended to stand alone and not as illustration of the works of poetry.
PHOTOGRAPHY ENTRIES
The photographs are intended to stand alone and not as illustration of the works of poetry. All capture types and photographic processes are welcome. The exhibit is seeking photographic work that expresses personal ties to Northeast Texas. You do not have to live in the area currently, but you must have some expressed tie to Northeast Texas. Please explain how this applies to you in your artist statement.
Photography Juror, Amy Holmes George
Amy Holmes George is a fine art photographer based near Dallas, Texas, where she has held teaching appointments at Baylor University, the University of North Texas and Collin College. As a former tenured professor of photography and digital media from Stephen F. Austin State University, she holds an MFA in photography from Clemson University and a BFA cum laude in photography and graphic design from Miami University. Currently Amy is executive director of the Texas Photographic Society and a member of the National Board of Directors of the Society for Photographic Education.
Exhibited widely throughout the United States as well as in Italy, England, France, and China, Amy's work has been featured in more than a hundred exhibitions and is housed in several permanent collections, including The Getty, The Kinsey Institute and the Fratelli Alinari Museum. In 2008, Amy was awarded a Fulbright grant to fund a rephotographic project based on the Fratelli Alinari photo archives in Florence, Italy. Her work also has been published in a variety of texts, including the third edition of The Book of Alternative Photographic Processes, Gum Printing and other Amazing Contact Printing Processes, and the fifth edition of Exploring Color Photography: From Film to Pixels.
POETRY ENTRIES:
Writers who have personal ties to Northeast Texas are invited to submit, by post or email, 3 to 6 poems (10 pages maximum) in any style. Please include a statement of no more than 250 words explaining your connection to the area. You do not have to live in the area currently, but you must have some expressed tie to Northeast Texas.
Poetry Juror, LuAnn Keener-Mikenas
LuAnn Keener-Mikenas won the 2013 Library of Virginia Poetry Award for Homeland (Louisiana Literature Press, 2012). Her first collection, Color Documentary (Calyx Books, 1994), won in manuscript a 1990 Virginia Prize. Her work has appeared in Poetry, Shenandoah, Chelsea, and numerous other journals, and has been anthologized in Entering the Real World (Virginia Center for Creative Arts 40th Anniversary Anthology); Southern Poetry Review (Guy Owen prize winners); The Mind's Eye (textbook); A Fierce Brightness: Twenty-five Years of Women's Poetry; Buck and Wing: Southern Poetry at 2000; and Worlds in Our Words: Contemporary American Women Writers. Other honors include the Writers at Work Prize for Poetry, the Chelsea Poetry Award, and the Mary Roberts Rinehart Award for Poetry.
Prizes:
Exhibition and published works
Eligibility:
18 years and older
Copyrights & Usage Rights:
Artists and poets retain all copyrights to submitted images or poems. By entering the competition, artists selected to exhibit or publish works in the book grant Paris Poets Society permission to use the selected images or writings on printed materials, in the exhibition book/catalog, and on the gallery website for promotional purposes. Paris Poets Society retains no copyrights to artists' or poets' work.
Theme: