wildLIFE » a juried exhibition & party
Exhibit your photos in a San Francisco Gallery + win a fine art print
Deadline: 20 November 2016
Entry fee: $20/image
Submit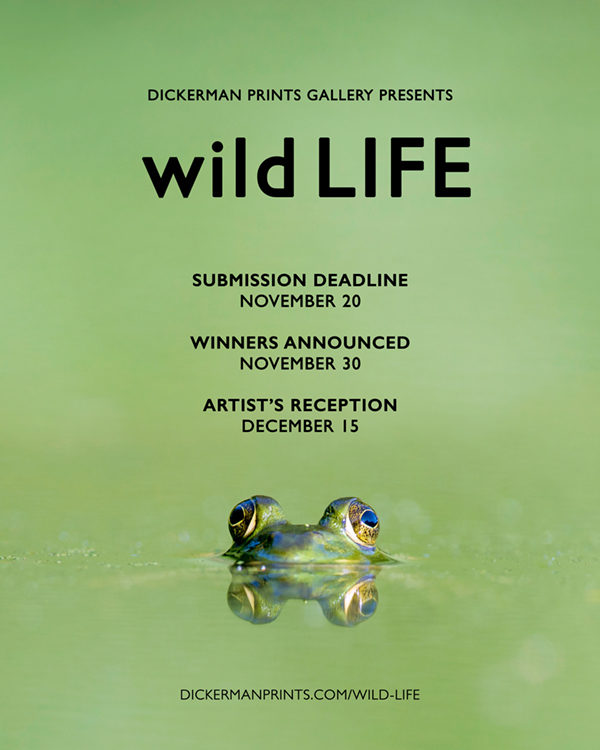 From the natural world to the ins and outs of human existence, it certainly is a wildLIFE.
Now, Dickerman Prints Gallery invites you to submit up to 3 images that relate to the theme of wildLIFE ... using whatever definition most resonates with you.
Accepted entries will be displayed during a group exhibition and holiday party on Thursday, December 15, 2016.
Your entry fee includes all printing costs, and the exhibition will be hung unframed. At the end of the exhibition, the photograph(s) will be yours to keep.
Prizes:
In addition to being part of a group exhibition in a San Francisco gallery, you will receive a fine art photographic print of your selected image(s).
Eligibility:
Everyone
Copyrights & Usage Rights:
You will retain all rights to any photograph you submit.
Additionally, you grant Dickerman Prints the perpetual, royalty-free and nonexclusive rights to:
— Display the photograph(s) on/in our Website, newsletters, printed promotions, events and social media platforms.
— Allow third-parties to share the photograph on their social media platforms, as it relates to this event.
Dickerman Prints will endeavor to credit all photographs with the photographer's name, whenever possible.
Theme:
Landscape Environmental Wildlife Underwater Macro/Micro Nature Other