Winter, International Photography Exhibition
Open Call for International Photography Exhibition, theme Winter
Deadline: 25 January 2023
Entry fee: Free to submit, £48 participation fee if selected
Submit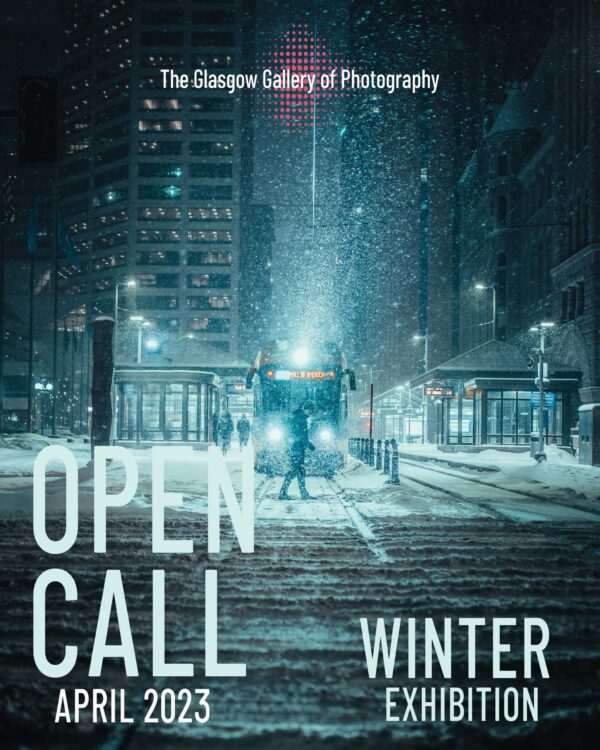 The Glasgow Gallery of Photography is running a month long exhibition in April called Winter. This exhibition is going to showcase all the amazing images that can only really be captured during winter. Whether it is a winter landscape, street scene or portraits of people wrapped up for winter we want to see your best images that encapsulates the idea of winter.
Winter is an open call for photographers to submit up to 8 images of any genre that would fit in with the theme of Winter.
Photographers who are selected will have their work displayed for a month long exhibition.
Work will appear online in our online gallery on our website.
Prizes:
The prize is the chance to have their work exhibited in our gallery for the month of April in which the gallery will print, frame, both install and take down the work on behalf of the photographer.
Their work will also be displayed on an online gallery on our website.
Also they will be in with a chance to be named photographer of the month.
Eligibility:
Everyone
Copyrights & Usage Rights:
The copyright of the Works during and after the exhibition remains with the Artist.
GGOP does not have the right to make use of or bestow the high definition files or the prints of the Works that will be used for the realization of the exhibition.
The GGOP reserves the right to print your image in a size and on paper type to a style in keeping of the exhibition it is entered into.
Artists grant GGOP the right to use their images to promote the exhibition, for display GGOP webpage and for inclusion On Instagram, twitter and facebook.
Theme:
Aerial Abstract Alternative process Black and White Cityscapes Environmental Fine Art Landscape Multi-categories Nature