Women Photograph + Nikon Grants 2019
These $5,000 grants will support photography projects
Deadline: 15 May 2019
Entry fee: Free
Submit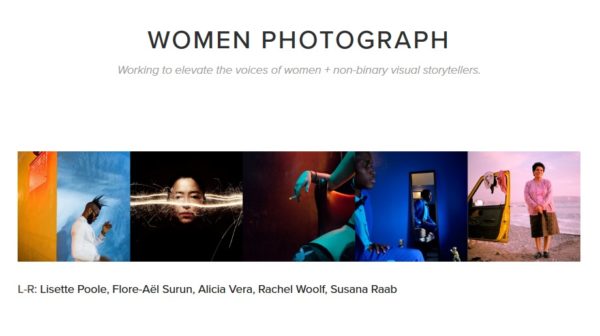 Women Photograph is excited to announce our 2019 project grants for women & non-binary photographers.
Women Photograph is an initiative that launched in 2017 to elevate the voices of women* visual journalists. The private database includes more than 850 independent women documentary photographers based in 99 countries and is available privately to any commissioning editor or organization. Women Photograph also operates an annual series of project grants for emerging and established photojournalists, a year-long mentorship program, and a travel fund to help female photographers access workshops, festivals, and other developmental opportunities. Our mission is to shift the gender makeup of the photojournalism community and ensure that our industry's chief storytellers are as diverse as the communities they hope to represent.
Applications must be submitted in English.
There are no restrictions on camera equipment used for either grant.
For all grants, half of the funding will be disbursed at the beginning of the project, and half upon completion.
Women Photograph, Getty Images, and Nikon may all ask for the use of promotional images to be used explicitly in conjunction with promoting the photographer, the work, and the grants.
Prizes:
These $5,000 grants will support photography projects — either new or in-progress — from visual journalists working in a documentary capacity.
Five grants are available, one of which will be earmarked for a non-binary or transgender photographer.
Applicants are encouraged to submit a story, rather than singles, as part of the grant application. The images need not be related to the project proposal. Multimedia projects are welcome.
Women Photograph has partnered with Getty Images to award a $10,000 grant in support of an ongoing documentary project from a professional photojournalist who has demonstrated a long-term commitment to their story. Applicants should submit portfolios of 20-25 images indicating that a substantial amount of work has already been completed, and that the photographer has a clear vision of what further work is needed to complete the project. Additional consideration will be given to applicants who evince a personal connection to – and engagement with – the communities they cover.
Eligibility:
These grants are open to women and non-binary documentary photographers of any nationality.
Copyrights & Usage Rights:
Grantees will retain full ownership of all work completed.
Theme: