World of Images Intercollegiate Photo Contest 2022
$3,000 to be awarded in grants
Deadline: 9 March 2022
Entry fee: Free
Submit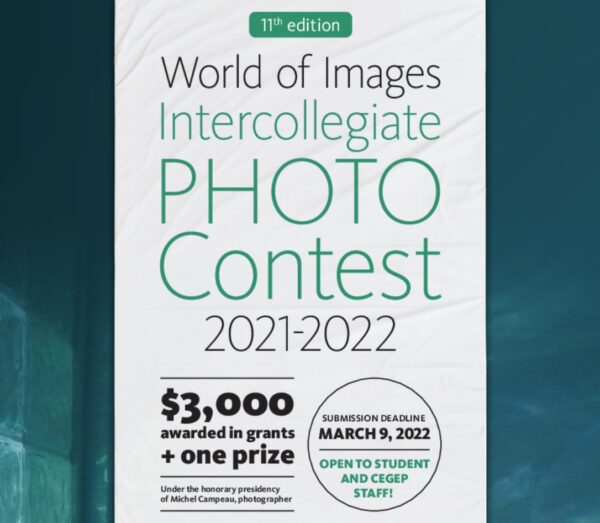 The Collegial Centre for Educational Materials Development (CCDMD) has been hosting the World of Images Intercollegiate Photo Contest every year since 2011. The contest aims to encourage the next generation of photographers and to foster the production and sharing of high-quality photographs in the education sector.
This year, the usually students-only contest will also be open to all employees of the Québec college network institutions.
The contest is judged by a jury made up of professionals and chaired by a renowned photographer. This year, the honorary chair is Michel Campeau, photographer.
Prizes:
$3,000 to be awarded in grants
• First place: $1,000
• Second place: $750
• Third place: $500
• Fourth place: $250
• Fifth place: $250
• People's Choice award (vote): $250
Eligibility:
The contest is reserved for students and teaching and non-teaching staff of the Québec CEGEP network.
Copyrights & Usage Rights:
Photos shared as part of the contest may be used inCCDMD publications in accordance with the Creative Commons license in effect for theWorldof Imageswebsite: Attribution – NonCommercial – ShareAlike
Theme: