WWF Spain Photography Contest
15 winners for a live exhibtion in Madrid
Deadline: 22 May 2022
Entry fee: Free
Submit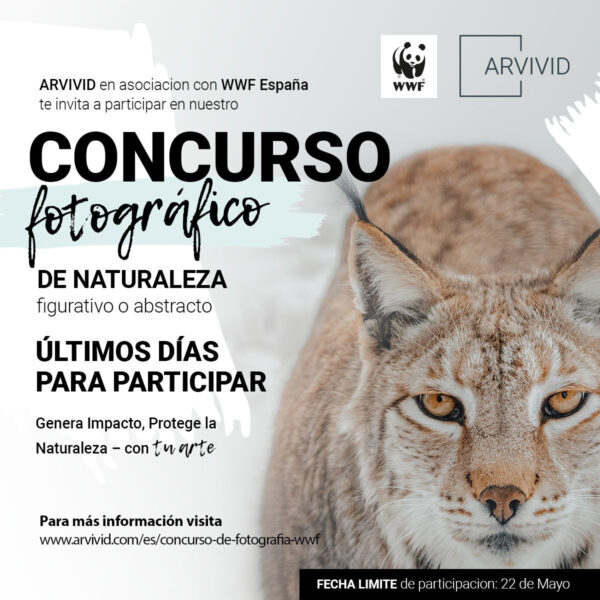 WWF Spain and ARVIVID join forces in a photographic exhibition on the occasion of two very important days for the conservation of our planet: The World Environment Day and The World Oceans Day. To celebrate them, we have organized this photo contest through which 15 photographs will be selected to be part of a charity exhibition in Madrid, and will become part of ARVIVID's artistic portfolio.
This exhibition aims to celebrate the power of photography to raise awareness about nature conservation, as well as to discover photographers from all over the world, who document the environmental diversity of our planet, using different photographic genres: nature, animals, abstraction, conceptual, etc.
The call for entries is open to photographers from all over the world, who can participate with a maximum of 3 photographs, from Thursday 5th of May until Sunday 22nd of May at 23:59.
Prizes:
Winner photographie: 500€
15 selected photographies for a live exhibition in Madrid
Diploma of participation
Eligibility:
300ppi
Copyrights & Usage Rights:
The authors of the winning photographs grant ARVIVID the different exploitation rights:
They authorize ARVIVID and WWF to publish their photographs on their websites and social networks, with the main objective of giving visibility to the exhibition and the sale of charitable work.
Exclusive reproduction for 6 months of the photograph for the purpose of charity sale and for the exhibition and communication of this.
Public communication on ARVIVID's website and social networks, as well as dissemination on the internet, social networks, press and TV.
Participants declare that the photographic projects submitted do not infringe the copyright of any other work, and that they hold the ownership and copyright of this work.
The authors of the photographs selected for the exhibition give their consent to access their personal data and process them for the purpose of publishing the result of the contest.
The jury reserves the right to declare the contest or any of the prizes void if the works are not of sufficient quality or do not meet the specifications of the rules.
ARVIVID has the right to select the photographs submitted to the competition but not selected for the exhibition, to add them to ARVIVID's artistic portfolio and to offer them for sale in the open edition category (here you can see the general terms and conditions of collaboration: https://arvivid.com/contracting-terms-and-conditions/)
Each participant will be solely responsible for any claims or violation of any third party rights, including intellectual or industrial property rights and image rights, and agrees to hold the organization exempt from liability for non-compliance with the requirements set forth in the rules of this contest.
Theme: