Yannis Behrakis International Photojournalism Award 2019 by Athens Photo World
Participants must be professional photographers.
Deadline: 25 August 2019
Entry fee: Free
Submit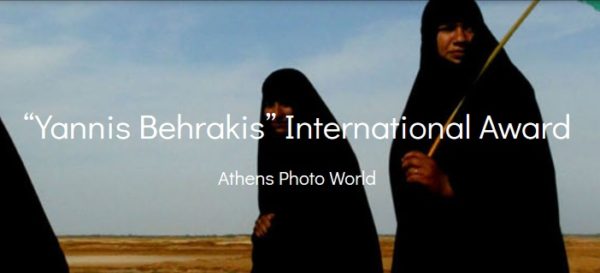 Athens Photo World 2019, with the donation of Stavros Niarchos Foundation, organizes the annual Yannis Behrakis International Photojournalism Award for professional photojournalists.
Jury members will receive the submitted works, without any info regarding the entrants' identity, directly from the webhosting company. All metadata will have been removed from the digital files.
The awarded photographic project will be exhibited at the next Athens Photo World (2020) festival at an individual exhibition of the photographer.
A new judging committee will be appointed every year, under the permanent chair of Elisavet Saridou Behrakis, according to the expressed wishes of Yannis Behrakis, regarding the establishment of the award.
For the year 2019 the committee consists of:
Elisavet Saridou Behrakis
MaryAnne Golon, Assistant Managing Editor and Director of Photography at The Washington Post
Santiago Lyon Director of Editorial Content at Adobe
Lefteris Pitarakis, Associated Press Chief Photographer, Turkey, a close colleague and friend of Yannis Behrakis will serve as special advisor and assistant to the jury.
Specifically, for 2019 and due to the exceptional circumstances of this year, the winner will be announced and the prize will be awarded at a special event held in Athens late Sept. 2019.
Prizes:
At its inaugural event, Athens Photo World will award a 15,000 € cash prize to a completed project of reportage or documentary photography, created within the last 3 years.
Eligibility:
Participants must be professional photographers.
Copyrights & Usage Rights:
The participants give to the organisers of Athens Photo World the right to use one of their photographs for the promotion of the competition (website, media and social media) both during the current event and in future ones.
Theme: