Your Best Photo – Shuttout.com 1st Birthday Contest
Submit your best photo fight for the money prize!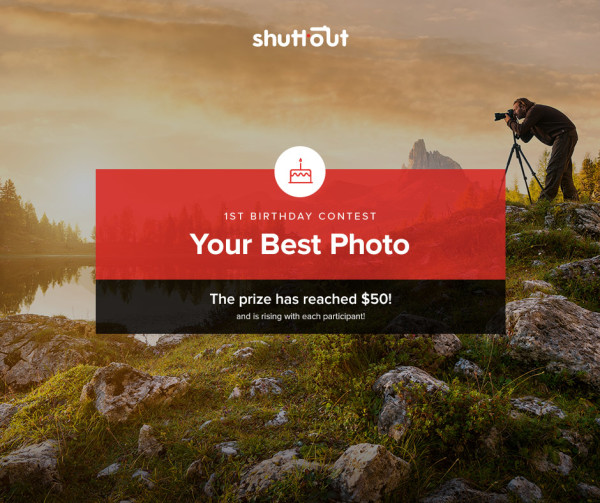 Welcome to our 1st birthday premium photo contest. Celebrate this historic moment with us by simply submitting your best photo from the last year. It can by any category as long as it's your best work! We start from the $50 birthday prize but remember - the prize rises with each participant so it can reach much much more!
Prizes:
There's a cash prize that rises with each participant. We start with $50 base prize. Each participant rises the prize for $0.5.
Eligibility:
All Photography Enthusiasts :-)
Copyrights & Usage Rights:
Any copyrights to the content posted or made available by Users in the Service shall remain the property of such Users.
By making content available in the Service, the User confirms, declares and guarantees that he/she is the owner of the content which he/she makes available and that the User is entitled to use it and make it available in the Service.
The User shall grant to the Service Owner and its partners and sponsors, free of charge and without any time or territorial limits, the right to use the content made available by the User in the Service solely for the Service's information and promotional purposes by publicly making such content available in such a manner that everyone can have access to it at the chosen time and place, in particular in the Service, social media and on other websites.
In the fields of exploitation specified in sec. 3 above, the content made available by the User may be used in full, in part, in fragments, independently or in combination with the works of other Users, including as part of collective work, after being archived in an electronic and printed form.
Users and other persons using the Service shall not be entitled to use, distribute, compile, copy, record or otherwise use the content placed in the Service by other Users. The use of the content in the manner specified in the first sentence, without the explicit consent of a User who has copyrights to such content, shall constitute a violation of such User's copyrights.
Theme: