Zooming in on Biodiversity
Capturing the richness of biological resources in the ASEAN region
Deadline: 30 September 2018
Entry fee: Free
Submit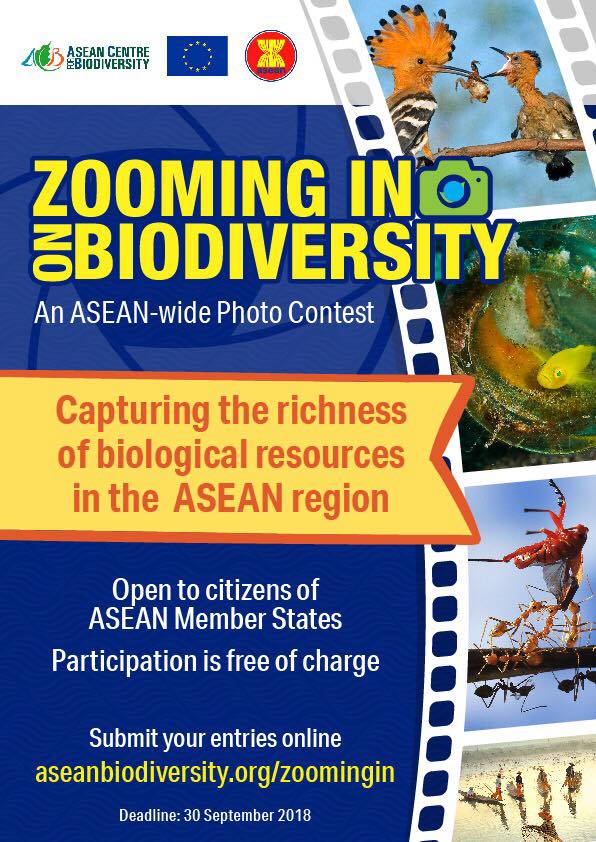 To promote appreciation to the biodiversity richness of the ASEAN region through the art of photography, the ASEAN Centre for Biodiversity (ACB), with support from the European Union (EU), calls on all photography and nature enthusiasts to join this year's staging of the Zooming in on Biodiversity, an ASEAN-wide photo competition.
This year's contest, which is a major initiative under the ACB and EU's Biodiversity Conservation and Management of Protected Areas in ASEAN (BCAMP) Project, has the overall theme "Capturing the richness of biological resources in the ASEAN region."
Prizes:
1st Place USD 1,500
2nd Place USD 1,000
3rd Place USD 500
Eligibility:
The competition is open to all citizens of ASEAN—Brunei Darussalam, Cambodia, Indonesia, Laos, Malaysia, Myanmar, the Philippines, Singapore, Thailand, and Viet Nam.
Copyrights & Usage Rights:
The photograph must neither be previously submitted, in whole or in part, to any other competitions, nor published in any printed or electronic media.
Once submitted, the owners/photographers provide ACB the right to use the photos on educational and other promotional materials of ACB with appropriate credits to owner.
Theme: